As one of the world's loftiest resorts at 9,800 ft, Anantara is truly one kind of its own- and became my favorite resort on this planet. The Anantara has breathtaking views of vast, jagged canyons that are best enjoyed from the hotel's protruding platform, Diana's Point (named for Princess Diana). It's incredible to see such a high level of laid back and relaxed luxury in such a remote, natural place, with in-villa infinity pools, three divine restaurants and excellent activities.
No wonder Anantara Al Jabal Al Akhdar Resort were listed as one of the top 100 hotels in the world by Elite Traveller and were bestowed the TripAdvisor 2019 Travellers' Choice Award for 'Best Luxury Hotel in Oman'.
But not enough – in May, the Spa at Anantara Al Jabal Al Akhdar Resort was named 'Leading Hotel Spa of the Year' by the Leaders in Hospitality Awards. It was also recognized by the 2019 Conde Nast Johansens Awards for Excellence.
Location
Long inaccessible, Al Jabal Al Akhdar (Arabic for "The Green Mountain") is a towering massif on the Sultanate of Oman's vast Saiq Plateau. Today, the arrival experience takes guests on an adventurous drive – two hours from Muscat International Airport or four and half hours from Dubai – past date plantations, dry riverbeds known locally as wadis, and historical forts. The drive to the property is already a adventure and we enjoyed this drive so much. The pick up from the resort was with a high end equipped 4 wheel car- the most gentle and intelligent driver who had a little pick nick and cooled drinks with him. Before you even set a step on Anantara the overwhelming performance of hospitality was performed doing the drive to the mountain resort.
Style
The hotel's classic Omani design features sand-hued, domed archways with intricate Omani patterns, an open-air courtyard with a fire pit and surrounding comfy sofas, and blooming flower gardens with trickling streams. Be sure to visit the spa, also designed in an Omani style, for a treatment using the mountain's damask roses.
Designed by award-winning French-Moroccan architect Lotfi Sidirahal from 'Atelier Pod', celebrated for creating harmony between architecture, interior and landscape, the resort reflects its culturally rich and diversely vibrant background. Prior to the design, Lotfi and his team spent considerable time exploring the surrounding area, meeting with inhabitants of the mountains and visiting abandoned villages to immerse themselves into the culture and ensure the resort stays true to the charm and intrigue of its locale.
Inspiration has been drawn from the layout of the local villages to create a peaceful landscape filled with fragrant rose bushes, indigenous fruit trees, lush green terraces and al falaj water features, which mirror Oman's typical system of irrigation channels. Constructed using traditional building techniques and local building materials, including stone taken from the mountain, the resort is an alluring blend that reflects Omani history and culture, with contemporary flair. Sanded earthy coloured façades blend seamlessly with the rugged mountainscape, with signature touches such as fort-like doors carved from solid wood, gently curving archways and decorative latticework resulting in a unique setting that is respectful of its surroundings and enhances the magnificent views.
Rooms
A total of 115 luxury rooms and villas overlook either the dramatic canyon or tranquil gardens. Each features its own indigenous luxuries from custom-made Omani furniture to Amouage bath products evoking the region's indigenous fragrances. The resort's 82 Premier and Deluxe Rooms boast a spacious bedroom, amongst the largest in the country, each with views of the dramatic canyon and a spa-like bathroom carved out of sustainable material from the local area, complete with a rain shower and separate bath alongside a balcony. Meanwhile, the 33 villas grant guests an intimate escape each with personal villa host services and a private infinity pool overlooking the cliffs or hidden in an exotic garden. Guests have the choice of either one or two bedrooms or the exclusive Three Bedroom Royal Mountain Villa. Each villa features state-of-the-art interactive LED IPTVs and spacious living area, all adding to a sense of sublime luxury.
Service & facilities
The hospitality at Anantara Al Jabal Al Akhdar Resort is as unique and striving as the property itself. The most attentive employees are like invisible servants- who are there in the second you need them. I guarantee you- you will see smiling faces everywhere during your stay. The employees mostly local are well educated and bring a most authentic and heartfelt ambiance to this property. You can feel that a great management behind has its eyes on every little detail here and that the team at Anantara has just one goal- to make your stay an unforgettable one.
The excellent room service was a one kind of experience and to be honest – it is really hard to leave the most wonderful villas in the evening. The magic sunset and the extraordinary starry sky will keep you glued at the wonderful terrace.
From the moment guests step through the commanding entrance, they are enveloped in an air of restful, sophisticated style. The sense of arrival is heighted with a welcoming ceremony, allowing them to enjoy the mountain-fresh breeze whilst listening the melodic beat of traditional Omani music.
With a selection of five restaurants and lounges to choose from, guests can indulge their senses with experiences ranging from a fine dining Arabian grill concept and poolside Mediterranean restaurant to an all-day international dining restaurant serving world classics and a rooftop shisha lounge, with the pleasant climate allowing for year-round alfresco dining. The Bella Vista Restaurant was awarded 'Best Italian Restaurant' & 'Restaurant of the Year' at the 15th Oman Restaurant Awards.
The Pasta I had here was better than anything else I had on my vacations in Italy.
The ultimate gastronomic experience, Anantara's 'Dining by Design', gives guests the chance to dine at the spectacular cliff-edge platform, Diana's Point, named after Diana, Princess of Wales, who visited the exact spot in November 1986. Surrounded by flickering candles, guests can enjoy an unparalleled private dining experience courtesy of their very own chef and served by a personal butler as they revel in the soothing sounds of the great outdoors.
Other highlights at the resort include a cliff-edge infinity pool and a state-of-the-art Fitness Centre, tennis court and world-acclaimed Anantara Spa. Harnessing the essence of Arabia, the spa welcomes guests with ancient hammam rituals, five treatment suites, private outdoor relaxation areas and separate male and female indoor swimming pools.
Surrounded by majestic mountains and enjoying cool temperatures throughout the year, Anantara Al Jabal Akhdar Resort presents travellers with authentic experiences, allowing them to explore the nearby culture, history and landscape. Hike through valleys bursting with date palms and orchards of pomegranate, haggle over a silk scarf in the souks and wander through gardens of sweet scented roses. Rise early to practice sun salutations atop a mountain, gaze at the awe-inspiring night sky with an astrology session, or for the active, try abseiling or mountain climbing, archery and mountain biking. Those looking to immerse themselves in the captivating traditions of Oman can visit the mountainside ancient villages and nearby heritage sites or take part in Omani cookery lessons, part of Anantara's signature Spice Spoons series.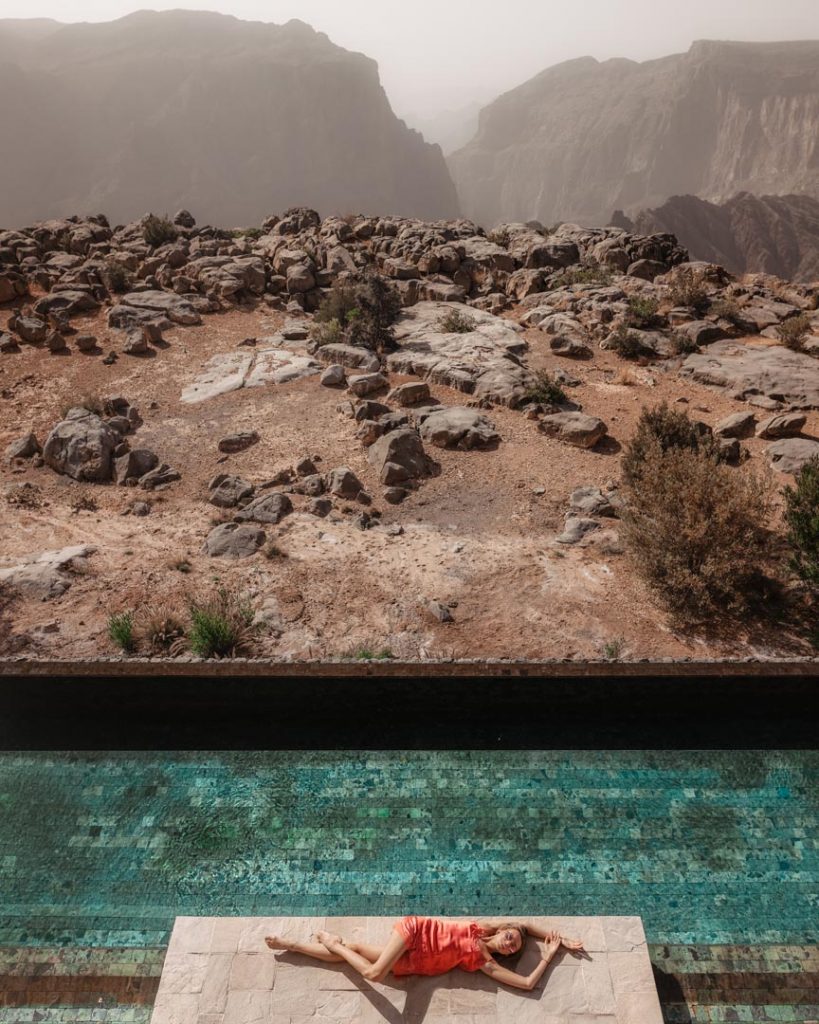 With an intriguing heritage dating back thousands of years, culture lovers can pay a visit to the plethora of nearby heritage sites. Climb to the top of the ancient city of Nizwa for a bird's-eye view of the crenelated roofs of what was once a centre for trade and Islamic studies. Delve into the local way of life by visiting the fascinating souk, renowned for its Friday cattle auction, intricately hand-carved "khanjars" (daggers) and ornamental silver jewellery. Marvel at old world engineering in the deserted village of Birkat Al-Mouz, a UNECSO World Heritage Site that boasts the al falaj irrigation system, a central component of Omani history which has allowed life to flourish in the otherwise arid desert environment.
Function space
As an event specialist with 25 years of experience – I must say the Anantara Al Jabal Al Akhdar Resort is the perfect dream location for any wedding, anniversary or corporate function. From the lavish ballroom to extensive meeting facilities the Luxury Mountain Escape offers a range of memorable venues for events and weddings "on top of the world". A professional event team will be most helpful with decoration and extraordinary ideas to make your function memorable. Most perfect for Incentive trips you will find countless authentic activities for every group. The great roads to the Anantara make the hotel the perfect venue for every automobile market launch and the associated test drives.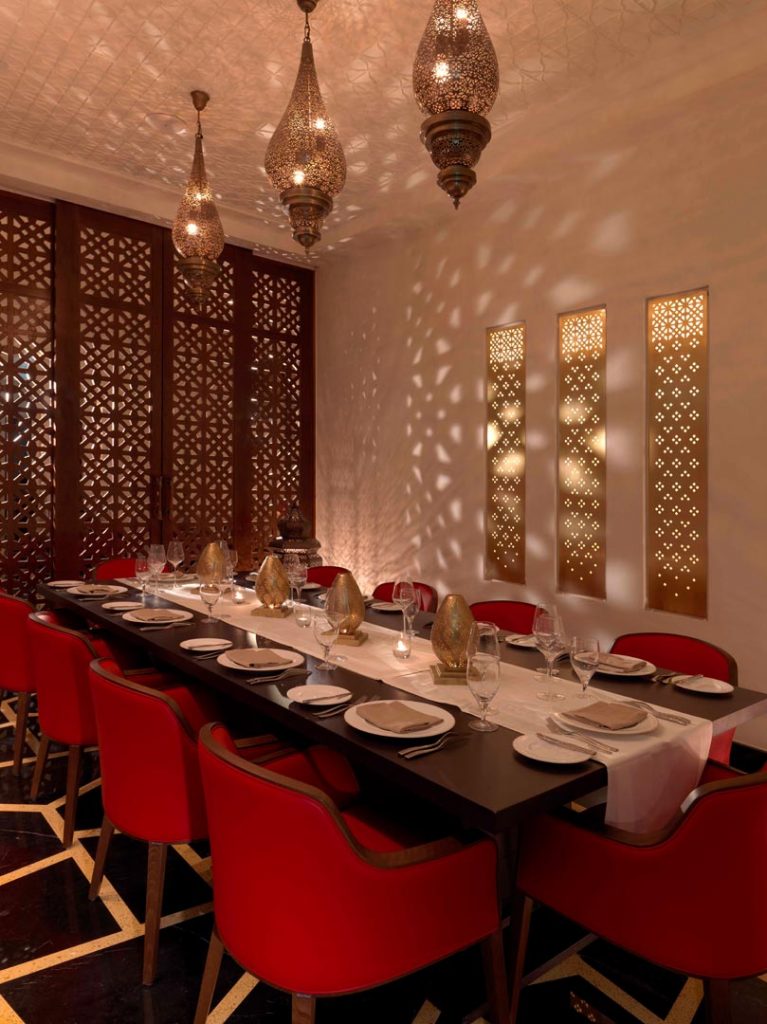 For me the Anantara Al Jabal Al Akhdar Resort was the discovery of the year and this most awesome property shows elevated luxury on the highest level.
A genuine place for the modern traveler who is searching for heartfelt hospitality in the world's most exciting destinations.
For more information or bookings, please visit:
https://www.anantara.com/en/jabal-akhdar/
Requests for private or corporate events please contact:
Sajeev Vasudevan | Director of Sales
svasudevan@anantara.com
T: +968 2206 0747
Contact:
Anantara Al Jabal Al Akhdar Resort
P.O. Box 110
Postal Code 621
Al Jabal Al Akhdar
Nizwa
Oman
GPS:
23.067681116038536,57.67011780953533
N 23º 4′ 3.652″ E 57º 40′ 12.424″
Telefon: +968 2521 8000
Fax: +968 2521 8008
Email: aljabalalakhdar@anantara.com