The Chedi Muscat, a member of The Leading Hotels of The World and Oman's first contemporary hotel, opened its doors in 2003. The resort offers understated elegance and a perfect mix of Omani architecture and a profound Asian Zen-style. The Chedi Muscat is managed by the ultra luxe GHM brand. Established in 1992, GHM has created some of the world's most highly regarded intimate luxury resorts and hotels.
The minimalist lines of the low-rise buildings are accentuated by gardens of symmetrical simplicity, with lines of manicured hedges and ordered water ponds, creating a tranquil Zen calm. All 160 non-smoking rooms have breath-taking views across the gardens and ponds, mountains and the Gulf of Oman. As well as a 370-metre private beach, The Chedi Muscat offers guests a choice of three pools.
The property attracts a stylish international clientele and clearly caters to couples and adult friends, more than to families with young children.
Location
Occupying a prime beachfront location, this exclusive 21-acre beach resort is located 20 minutes north of old Muscat, the capital of the Sultanate of Oman, at Al Ghubra. The Chedi Muscat is ideally located for business and leisure travelers alike as the main tourist attractions, the financial center, three golf courses, and Muscat International Airport are only a 15-minute drive away.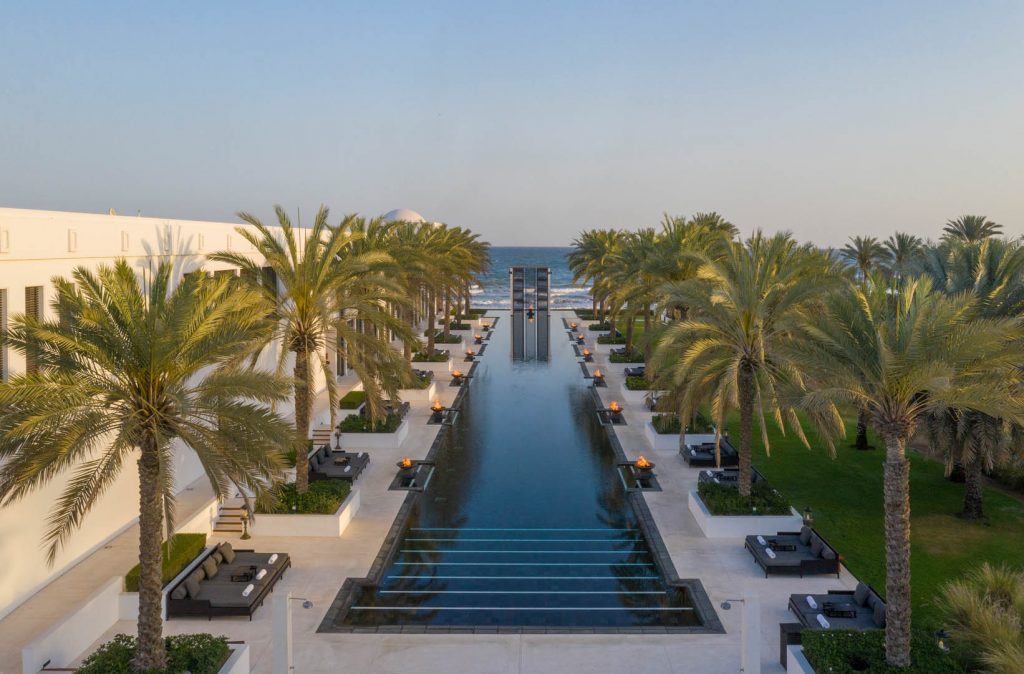 Style
The minimalist design of this ultra-stylish resort was a revolutionary concept for the Middle East when the hotel opened in 2003, and its timeless decor remains an inspiration for resort architecture around the globe today.
The Chedi Muscat is a product of a countryman of mine, Denniston Architects and the multiple award-winning Belgian-born designer Jean-Michel Gathy, clearly approached the resort's style from a culturally sensitive viewpoint. The minimalist lines of the low-rise buildings are accentuated by gardens of symmetrical simplicity, with lines of manicured hedges and ordered water ponds, creating a tranquil Zen calm. There are no fewer than 400 palm-trees throughout the grounds, each precisely planted to create artful arboreal symmetry.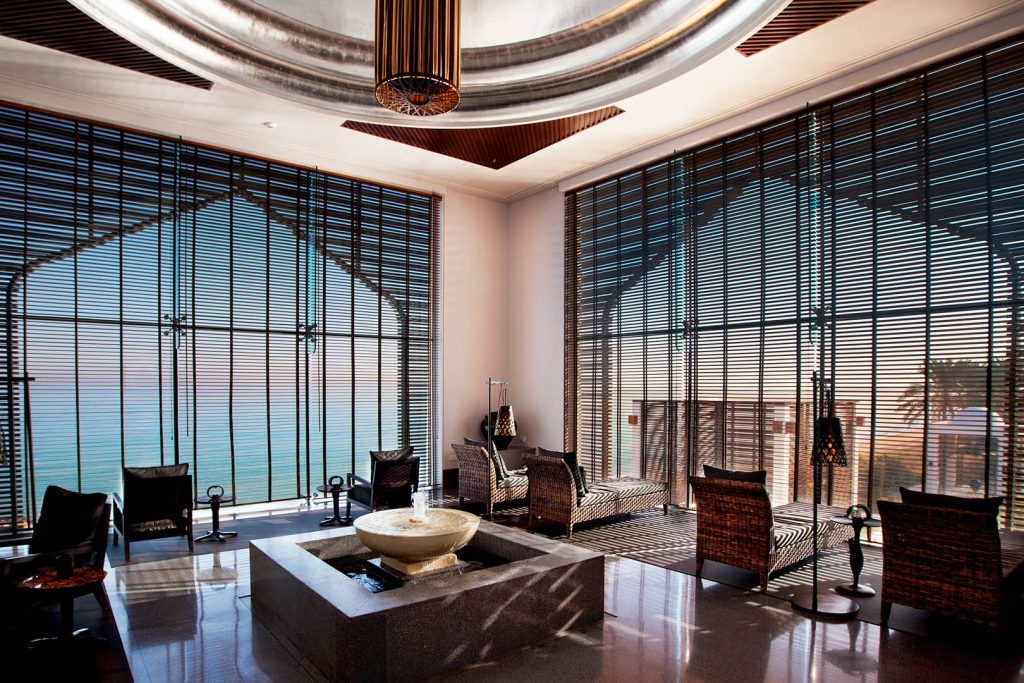 Wandering around the 21 acres of spectacular resort grounds is a visual delight and your eyes will find awesome details every moment. The white exterior of the hotels pavilions blends perfectly in the lush greenery of the surrounding date palm gardens, and the maze of reflecting pools, falaj-inspired waterway, gorgeous fountains, and Moorish-style courtyards kept me entertained for the duration of my stay. At night, the gardens are enchantingly lit with candles and rope-lights.
Rooms
The Chedi Muscat offers 160 rooms and suites that are divided into ten room categories; Serai Rooms, Serai Sea View Rooms Serai Terrace Rooms, Deluxe Rooms, Deluxe Rooms Twin, Deluxe Club Rooms, Deluxe Club Terrace Rooms, Chedi Club Suites, Chedi Two Bedroom Suite and Chedi Four Bedroom Suite. Each room category has its own magnificent view of the water gardens, the Hajar mountain ranges, or the Gulf of Oman.
All 158 rooms and suites feature minibars stocked with complimentary tipples (beer in standard rooms; everything in suites). Bose Wave music systems, iPod docks, televisions, Nespresso machines and kettles discreetly furnish minimalist Japanese-style living spaces, in which bathrooms and walk-in wardrobes are combined in the standard rooms; separate en suites with sunken tubs preside in higher categories.
Marble, colored black and cream, and teak wood accessories, including Venetian blinds, create a soothing, neutral backdrop.
Room amenities at The Chedi Muscat include Acqua di Parma toiletries, a Nespresso coffee machine, fresh fruit upon arrival, and – highly appreciated – a minibar with complimentary soft drinks and beer.
The Chedi Club Suites are beyond your imagination and I highly recommend to go for it. Overlooking either the Hajar Mountains, the Gulf of Oman or one of the hotel's many water features, the suites each have a private terrace or balcony, vast windows and high ceilings, as well as a bathroom with sunken bath tubs and twin sinks (placed at opposite ends of the room, thanks to the grand dimensions). What's more, you'll be in the Club, member benefits of which include return airport transfers, access to the lounge, daily afternoon tea and pre-dinner cocktails and canapés, free laundry and a free minibar that gets topped up every morning. This Suite is amongst my personal favorite rooms at any hotel world wide. Truly stunning!
Service & facilities
The Chedi Muscat shines with most friendly employees and dedicated service- a class on its own. The attentive employees here going to make your stay the most pleasant and memorable one as possible. Smileing faces where ever you walk – shows the hotel in managed very well and every unit knows how to deliver high end hospitality.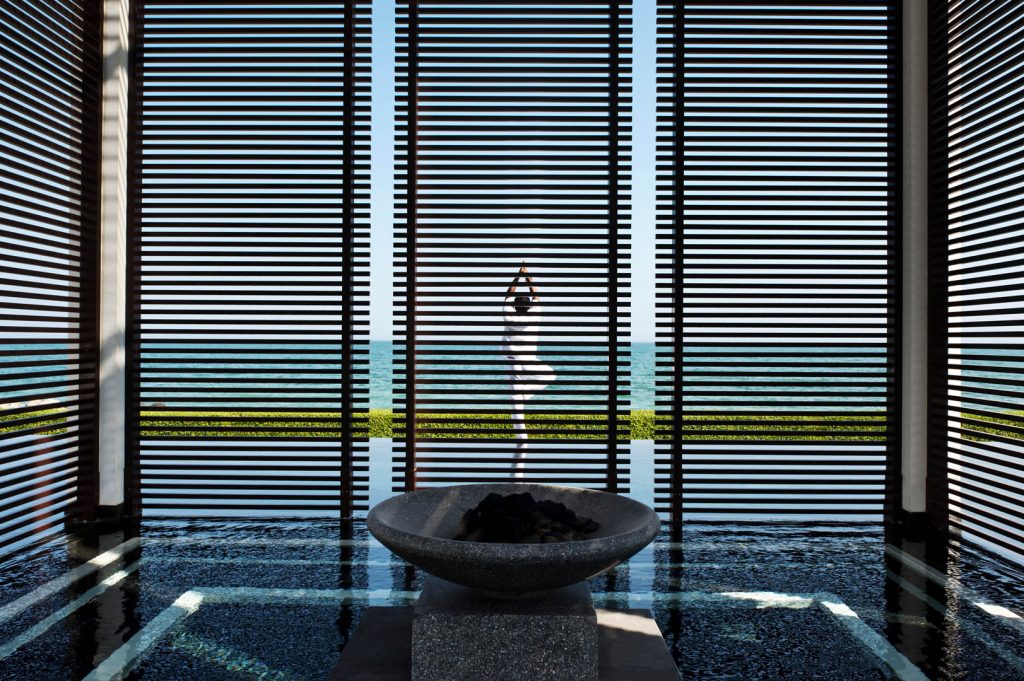 Restaurants
Embark on an irresistible voyage of dining pleasure at the Chedi Muscat with a choice of six restaurants, featuring Arabic, Asian, Indian, Japanese and Mediterranean cuisine, as well as seafood served at The Beach Restaurant. All dining options are sure to promise a memorable and incredible dining experience, with both outdoor and indoor seating options catering to every season. For a truly inspiring al fresco experience, guests can dine at the Beach Restaurant (open from mid-September to the end of May), a romantic beachfront patio where the creative seafood menu is accompanied by a sublime panorama of the Gulf of Oman.
The restaurant, with outdoor and indoor seating, open kitchens and a ceiling full of chandeliers, starts each day hosting a breakfast buffet. Expect Arabian and European favorites, from labneh and flat bread to sautéed mushrooms and beef sausages made with beef, and à la carte extras including eggs Benedict.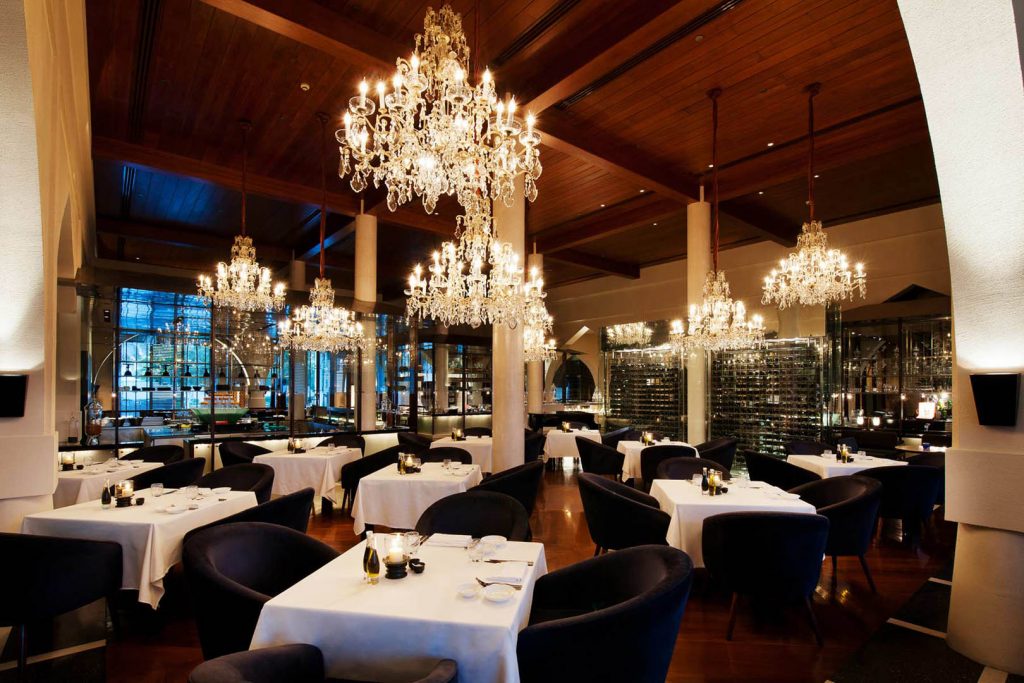 Lunch, dinner and drinks are also served here and different menus are available around each of the three pools, and liquid refreshments and pastries in the lobby lounge. From October to April, the Beach Restaurant sells Omani seafood, including wild lobster and tiger prawns with a choice of lemon beurre blanc, XO or tamarind sauce. The Arabian Courtyard puts on a Middle Eastern spread in a courtyard alongside an adjacent Shisha Lounge.
The Boutique at the Chedi Muscat offers a superb choice of limited edition art, fashion pieces and gifts that are exclusively available only at the hotel.
Pools and Spa
The three pools each have their own cabana serving drinks and food, with Mediterranean fare by the Chedi pool, Asian flavours at the Serai pool and Japanese-cum-Malaysian nourishment to help you reach the other end of the Long Pool.
Those looking for absolute tranquility will not be disappointed as The Chedi Muscat features two adults only areas where you will not be disturbed at all: only guest aged 16 years and above are allowed at the Chedi pool and the Long Pool.
The 700-square-metre Health Club, adjacent to The Long Pool is stocked with 30 pieces of top-range Technogym equipment from the Visio Web line and free weights, Power Plates, a Kinesis wall and a Pilates corner. High- and low-impact group exercise classes as well as personal training sessions are available to further ensure that fitness goals are achieved. A dedicated ladies only sauna and steam room as well as a sauna and steam room that is exclusively reserved for the gentlemen, complete the extensive offering of facilities at The Health Club at The Chedi Muscat.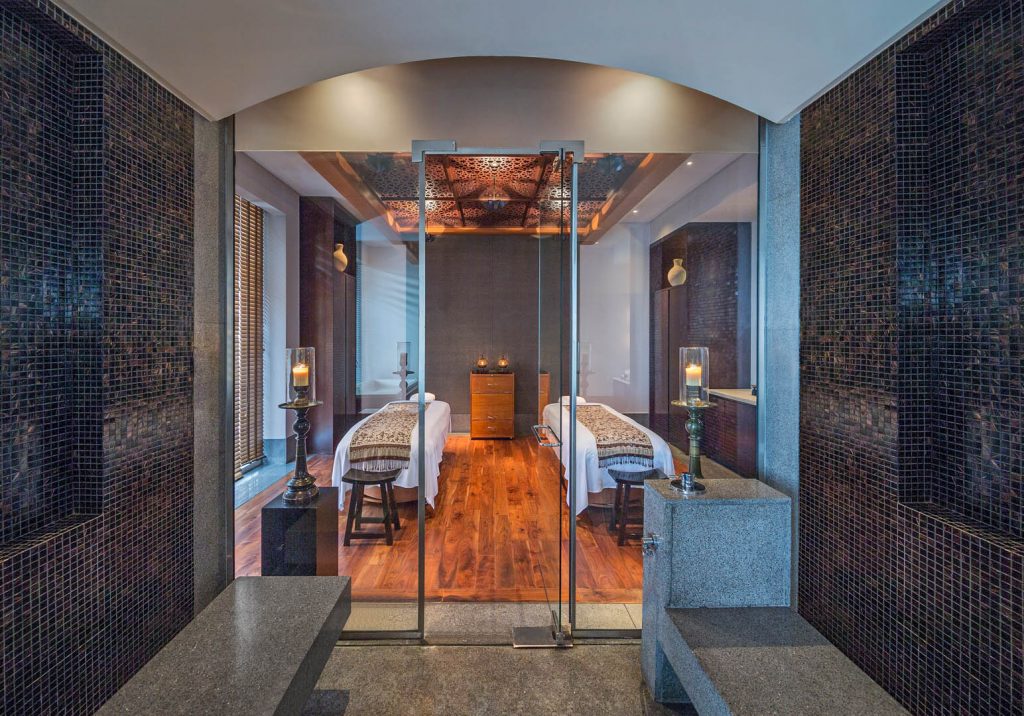 Two floodlit tennis courts are available for all guests to use at no charge. Tennis rackets and balls are available at the gym at no charge. A tennis coach is also at hand in case guests wish to further improve their techniques; his services can be booked through the concierge and charged directly to the room.
The Chedi Muscat offers a fully serviced private beach of 370-metre with umbrellas, towels and daybeds.
The 800-square-metre spa is a true sanctuary with 13 fully self-contained spa suites including private changing facilities that are the epitome of understated elegance. The Spa specializes in Balinese therapies, but also offers an extensive variety of beauty rituals based on the holistic principles of aromatherapy, Ayurveda and herbalism. The Spa is dedicated to pampering the body and mind, restoring spiritual balance and harmony and revitalizing all senses.
Function space
The Chedi Muscat is the perfect place for any corporate or private event. Countless places and locations are available to make your event an unforgettable one.
Especially weddings, anniversaries or even product placements, incentive trips or car presentations will be spoiled for choice here. A dedicated experienced event team will assist you and offers most professional help.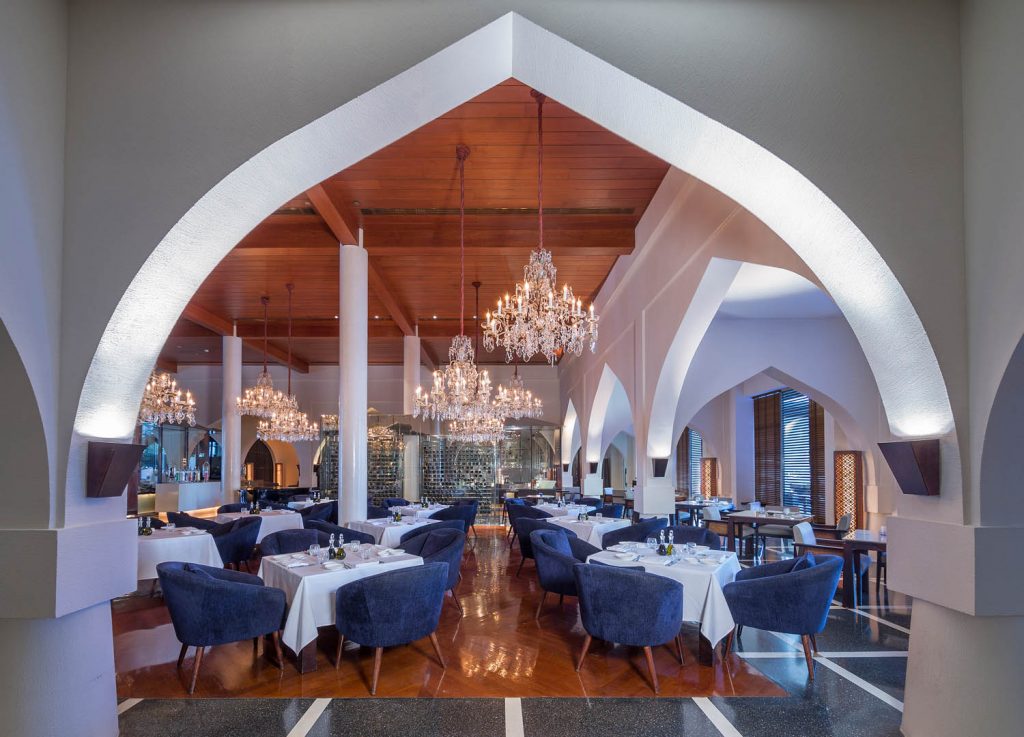 The Nizwa Room used as Multi-purpose Room comes with 51 qm suitable for private cocktails, meetings and small conferences for a maximum of 30 persons. The Salalah Room (Boardroom) 102 square metres is suitable for meetings and conferences for up to a maximum of 40 persons. Set menus and family-style menus for group luncheons and dinners in any of our private dining rooms are available.
LCD screen, beamers, flip chart, paper, pen/pencils will be provided. A variety of conference equipment is available on request, such as microphone and sound systems.
Outdoor you will find endless opportunities for gala dinners, receptions or parties.
For more information or bookings, please visit
Website: https://www.ghmhotels.com/en/muscat/
Requests for private bookings please contact:
Phone: +968 2452 44 00
Email: chedimuscat@ghmhotels.com
Requests for private or corporate events please contact:
Mr. Roko Palmic
Email: rpalmic@ghmhotels.com
Mr. Deepak Menon
Email: dos@chedimuscat.com
Phone: +968 24 52 44 85
Fax: +968 24 49 44 86
Contact:
The Chedi Muscat
18th November Street
P.O. Box 964
P.C. 133, Al Khuwair Muscat, Sultanate of Oman