The visit to this extraordinary boutique hotel was like a love-affair to me.
L'oscar is a boutique hotel, created from a Baroque-style, grade II listed former church in Holborn, a grand literary hub, and the centre of a thriving mix of bars, shops and restaurants that forms part of the city's coolest high-end district. L'oscar is conceived with the belief that a hotel is a theatre: a stage where performances of the utmost quality are played out and every detail is considered for the enjoyment of you and your guests.
Imagination and attention to detail is woven into the fabric of L'oscar. The sumptuously-decorated event spaces, unprecedented levels of service and exhilarating dining experience, ensure that you'll have a truly unique and memorable experience. L'oscar offers you a red-carpet welcome with unprecedented levels of service and an exhilarating dining experience where opulence and temptation combine.
Location
Uniquely sophisticated, the hotel sits in the heart of historic Bloomsbury on London's Southampton Row, within a whisper of the City, Theatreland, Soho, and the West End. The lavish boutique hotel in the heart of Holborn are most central located and you got everything in walking distance.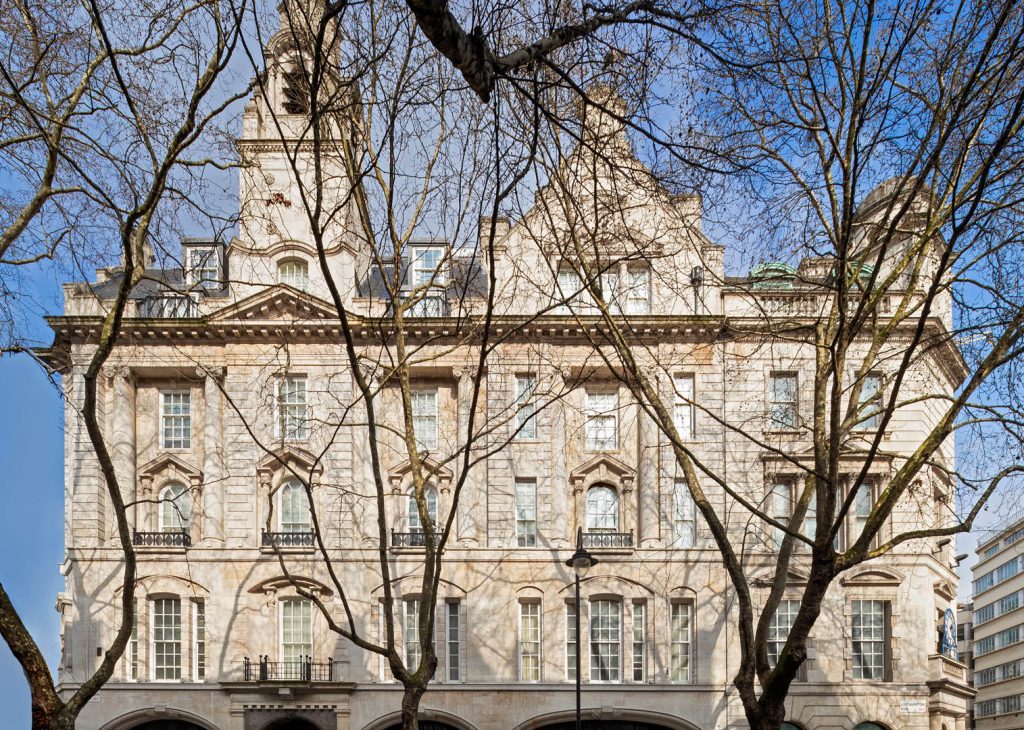 Style
The hotel has been created from a Baroque-style, grade II listed former church in Holborn, a grand literary hub, and the centre of a thriving mix of bars, shops and restaurants that forms part of the city's coolest high-end district.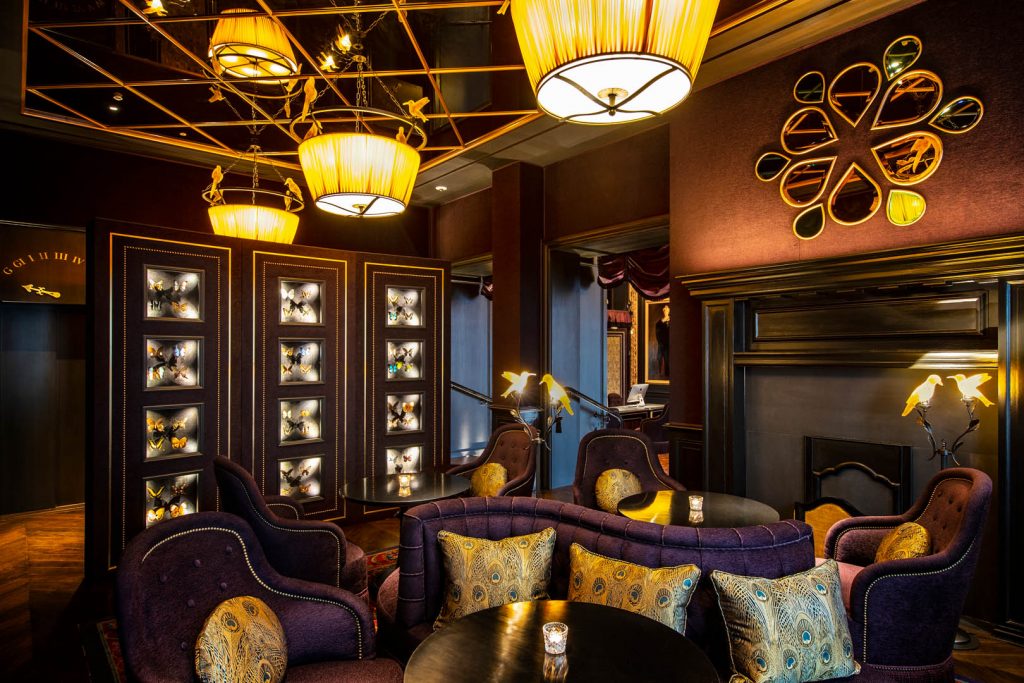 L'oscar is a turn-of-the-century architectural gem. Now extravagantly restored by world-leading decorateur Jacques Garcia and L'Oscar International.
Imagination and attention to detail is woven into the fabric of L'oscar, from the sumptuously-decorated bedrooms, velvet and leather interiors, exquisitely-unique champagne coupes, crystal butterfly wing taps and seven-storey chandelier.
All in all devoted to the divine. No wonder that this gem has received many awards such as "London The Times and Sunday Times Travel Awards", "Europe's Leading New Boutique Hotel 2019", "World Travel Awards" and is voted to the 100 best British hotels.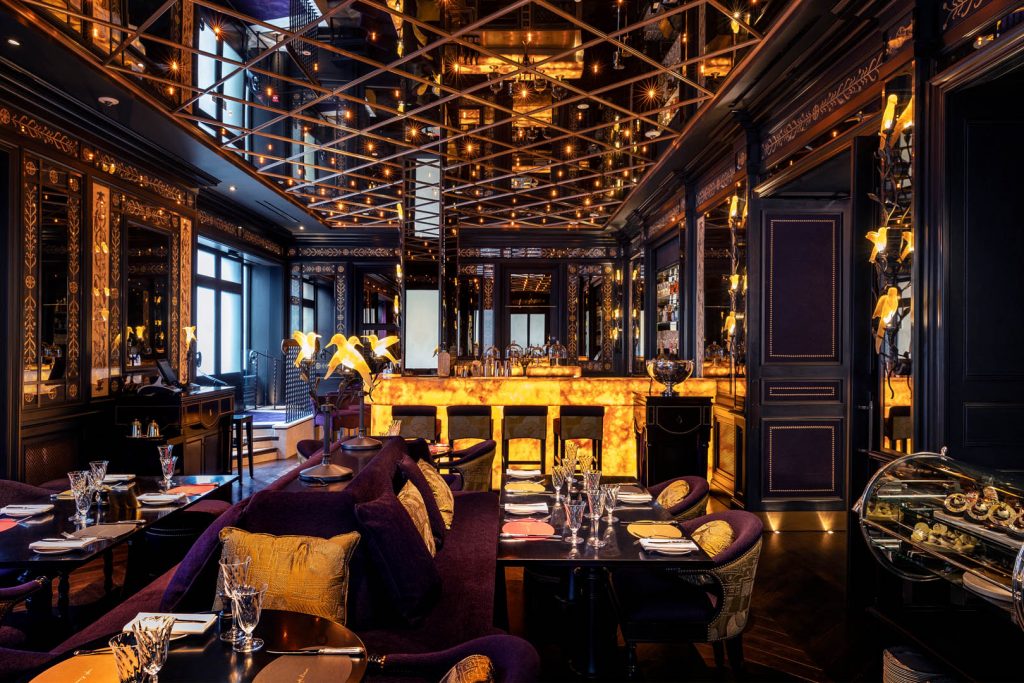 Rooms
L'oscar's 39 bedrooms aunt some of the most unique, original design features of any hotel accommodation in London. These are complemented by the deep purples, rich reds and burnished golds that oat through each of the individually-designed rooms.
From the elegant Superior Rooms, with luxurious touches and spacious marble bathrooms, to the unique and expansive L'oscar Suite, with its spectacular historic plastered high ceiling, those bedrooms are sure to delight.
Service & facilities
The great and very private service at L'oscar can hardly be described. The always attentive staff acts rather in the background but is always there when you need it. The check in is already an experience and you can't wait to see your room.
The walk through the hotel is like a fall through the centuries and the eye always discovers new beautiful details.
Located on the ground floor, L'oscar Restaurant is the bustling heart of the hotel, with its illuminated onyx bar and decor inspired by the world's oldest café in Venice, with walls and ceilings lined with mirrors, gilded panels, and stunning original art. L'oscar offers all the charm and sophistication of a Parisian café. A food lover's lair, it is the go-to place for delectable breakfasts, bistro-style lunches, and intimate evening dining, or simply a late-night dessert and a soothing glass of wine.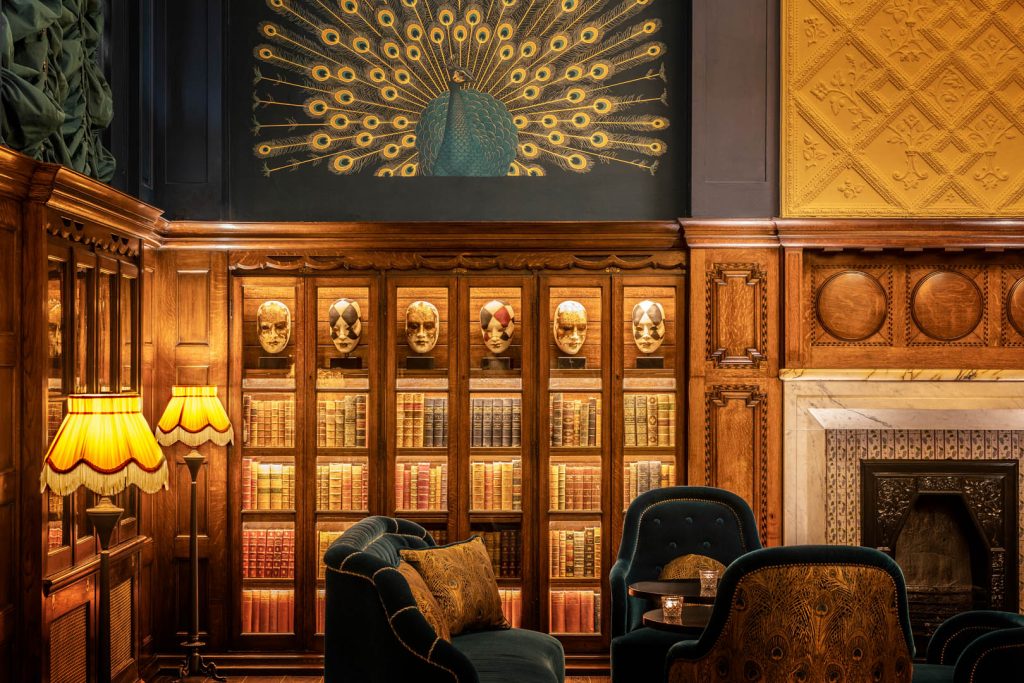 The Baptist Bar is one of its kind. I fell in love by just stepping in to this most awesome location. This sought-after setting is the ideal place for an early rendezvous, a lively catch-up over cocktails, or an intimate late-night conversation. The lavish surroundings of The Baptist Bar were created by leading decorateur Jacques Garcia. Enjoy our mischievous array of Old and New Testament cocktails, or join those in-the-know and catch our exclusive program of visiting musicians in this chic central London hideaway.
The chapel upstairs provides an exhilarating dining experience, while downstairs the bar is decadently-designed and unapologetically sexy.
The Blue Tree Yard located next to the Baptist Bar, Jacques Garcia created a small and secret garden. The sheltering canopy is a copper tree in full blue blossom, hung with birdcages and beautiful foliage. It is the perfect setting to sip on a cocktail and explore our extensive cigar menu.
The private dining menus offer splendid feasts for any occasion. Whether catering for a luncheon, reception or sit-down dinner, L'oscar offers a menu to match every occasion – or you can create your own.
Function space
L'OSCAR THE EPITOME OF OPULENCE FOR MEETINGS, GATHERINGS, CELEBRATIONS AND WEDDINGS
Whether for business or pleasure, L'oscar features three of London's most atmospheric and beautiful private dining and event spaces. Set within a meticulously restored former church, L'oscar is not only the ideal venue for your intimate wedding and romantic reception – it will be perfect for any product placement or corporate event. L'oscar definitely attracts the fashion and lifestyle companies and has held already numerous successful events in its breathtaking venues.
The Library and The Committee Room are unique spaces for larger parties, intimate dinners, meetings, private events and weddings. Each room has many original features and a level of craftsmanship that exemplifies the Arts & Crafts era. A breath-taking former chapel is home to The Baptist, one of the most iconic event spaces in the capital, which is also available for exclusive hire. The Baptist is set within the building's Grade II Listed chapel. Lovingly and painstakingly restored, this grand octagonal double- height chapel is one of the most iconic private venues in the capital.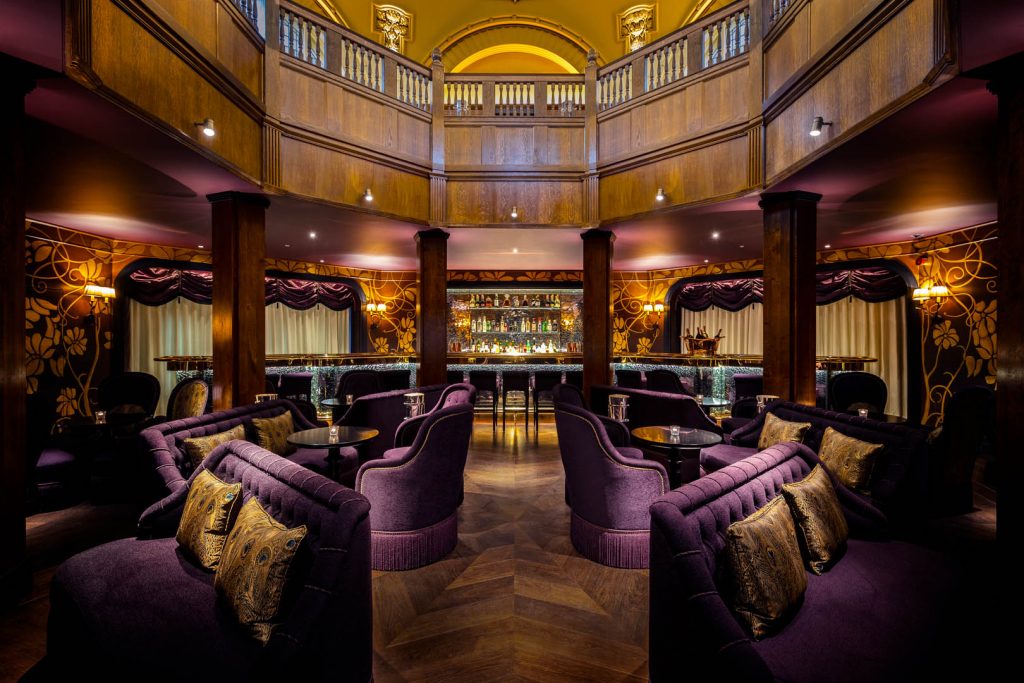 Whether in the divine setting of The Baptist, the rich and seductive Committee room, or the warm and elegant Library, L'oscar will create the perfect setting for your special day. L'oscar is licensed to hold wedding ceremonies and civil partnerships, and the highly experienced team are ready to help you plan your event in meticulous detail, to ensure your celebration is an unrivalled and unforgettable success.
The Wedding spaces and capacity: The Baptist – 109 attendees
The Committee Room – 25 attendees
The Library – 80 attendees
For more information or bookings, please visit the Website:
https://www.loscarlondon.com/
L'OSCAR LONDON
2-6 SOUTHAMPTON ROW
LONDON WC1B 4AA
Email: PRIVATEEVENTS@LOSCARLONDON.COM