Wanda Hotels & Resorts made its grand debut in Shanghai with its flagship hotel, Wanda Reign on the Bund. It is the 51st hotel of the group and the third hotel of its ultra-luxury hotel brand – Wanda Reign, after Wuhan and Chengdu. Wanda Reign on the Bund sets spectacular new standards in design, luxury and comfort, and has been meticulously designed and built to showcase the latest embodiment of Wanda excellence.
Location
Grandly situated along the iconic Huangpu River, Wanda Reign on the Bund enjoys magnificent views of The Bund, Huangpu River and Pudong skyline. Guests can conveniently walk to the hotel's historic neighbors, the ancient Yu Garden and City God Temple. The hotel is 42 kilometers from Shanghai Pudong International Airport, 16 kilometers from Shanghai Hongqiao Airport, and 6.4 kilometers from Shanghai Railway Station.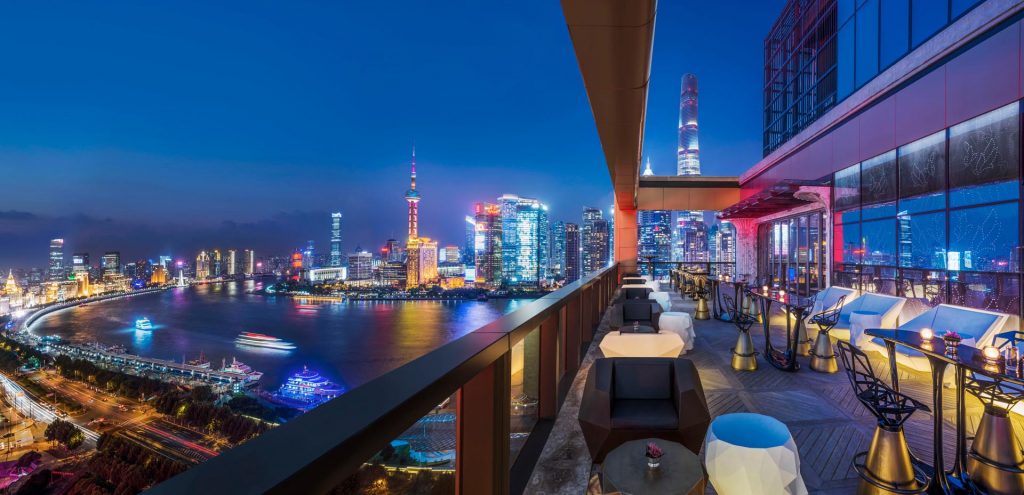 Style
The hotel exterior was designed jointly by Foster + Partners and Heatherwick Studio. The designers combined and infused unique patterns and textures inspired by old Shanghai elements and classical architecture to create a stunning new landmark along The Bund. Designed by Wanda Design Institute, the hotel's interior has been finely crafted over a period of three years. The design has inherited the elegance of Shanghai's cultural art elements from the 1920s and 1930s, such as magnolias and traditional Suzhou embroidery. In addition to the exquisite design concept, the hotel showcases a superb collection of art and antiques crafted by well-known contemporary Chinese artists. The subtle sense of art extends to the design of staff uniforms. Laurence Xu, a globally acclaimed designer and the first Chinese designer to ever join the Paris Haute Couture Week, was invited to be the creative designer of the team members' uniforms. Xu has beautifully interpreted Wanda Reign's Chinese roots.
Rooms
The hotel features 193 luxurious guestrooms including 14 uniquely designed suites, ranging from 45 square meters to 288 square meters, with stunning views of The Bund, Huangpu River, Pudong skyline and the ancient Yu Garden. Guestrooms are designed in two distinctive styles – Trendy with high energy and Noble, Luxurious and Distinguished. Featuring beige tones, the Trendy concept blends Art Deco glamour with modernity, while the Noble style incorporates mahogany burl wood, magnolia embroideries and Art Deco elements to create a distinct sense of place.
Each guestroom is well equipped with an innovative digital control system, complimentary high-speed Wi-Fi and an iPad smart in-room control including in-room dining ordering function. Each room door is fitted with a digital mini screen peephole, with images that can be viewed on the in-room LCD TV. Guests can easily and conveniently be informed of visitors without walking to the door. For ultimate privacy, an individual valet box allows staff to collect laundry, or newspapers without disturbing guests. The "Bed of Reign" features a handmade Talalay latex mattress from the USA and tailor-made wool bedding from New Zealand. In addition, Wanda Reign's signature "Dream Catcher" services, including fragrance, music and bedtime reading amenities, further ensure guests a blissful night's sleep. The spacious marble bathroom is equipped with a floor heating system, a separate shower and bathtub, an automatic toilet, a heated towel rack and exclusive Acqua di Parma personal care amenities.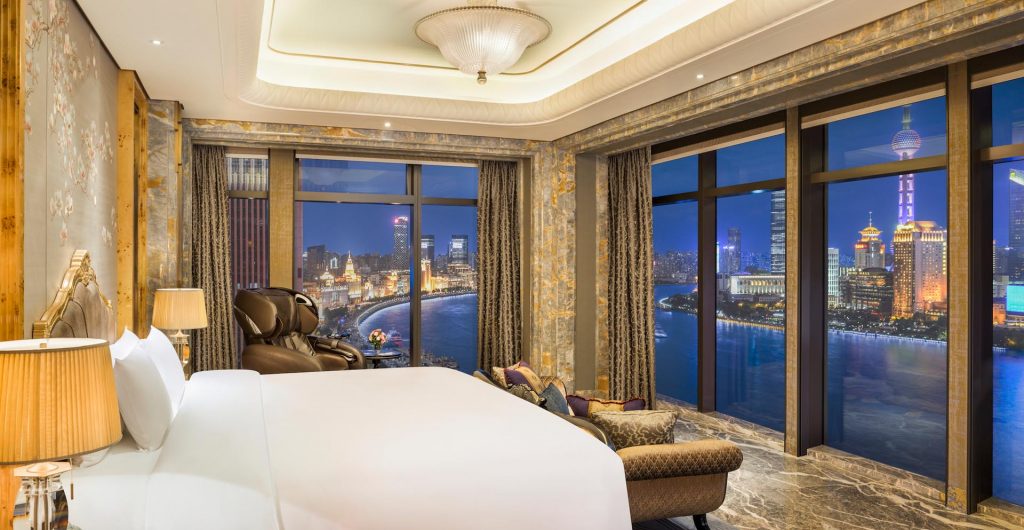 Each unrivalled suite exclusively features an advanced massage chair from Ogawa, a 55-inch B&O LCD television, a 5.1 Sound Bar system and Acqua di Parma personal care amenities. With extravagant décor and valuable art pieces, it offers guests a truly comfortable and luxurious stay in style.
Located at the top of the hotel building (20th floor), the 288-square-meter Chairman Suite has the most breathtaking views of the historic Bund, Huangpu River and Pudong skyline. The exclusive, beautifully appointed suite features a spacious living room, a grand dining area with adjoining pantry, a stylish bar, separate study room, and a master bathroom with a sauna and a large massage bathtub. The Chairman Suite offers a perfect customized collection of furniture and sumptuous upholstery blended elegantly with an eclectic mix of exceptional Suzhou embroideries in classy spun gold and contemporary artworks.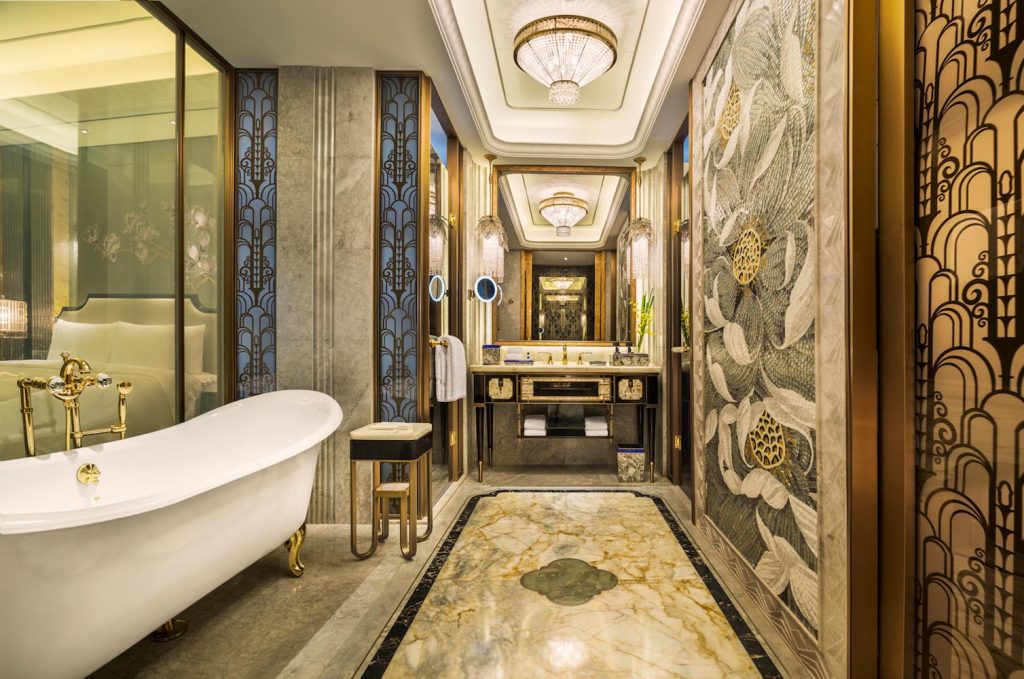 Service & facilities
Adhering to the Wanda Reign brand principles of honoring traditional Chinese hospitality values, Wanda Reign on the Bund offers a world-class butler service to meet the guests' every need with flawless professionalism. "Reign Angel" presents an incomparable guest arrival and departure experience. "Tea Journey" showcases well-known Chinese hospitality, as well as the Wanda Reign assurance of an outstanding luxury stay experience.
The hotel offers a premium collection of cuisine choices, ambiances, discreet services and the best culinary team in the city. It features four restaurants, one lounge and a rooftop club.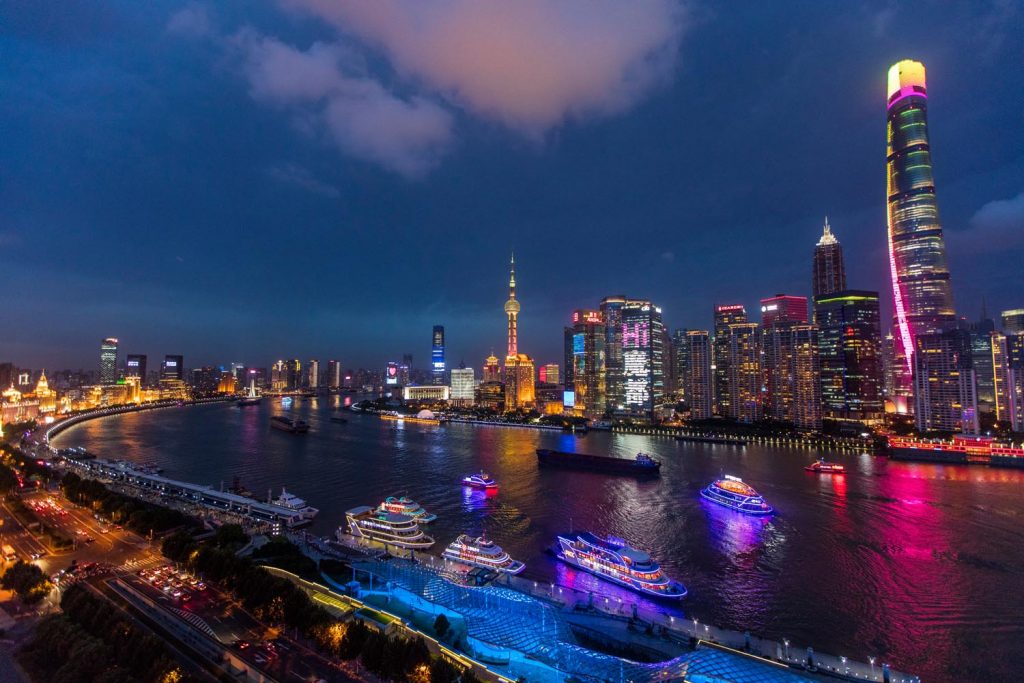 Wanda Reign on the Bund is the ultimate gastronomic destination for local and international guests. Located on the rooftop, RuiKu Restaurant and Champagne Lounge serves guests with customized afternoon tea and an exquisite fine-casual dining experience. It transforms into a club in the late evening where guests can sip and savor signature cocktails on the outdoor terrace overlooking The Bund while enjoying live DJ performances. It is a popular gathering spot for party lovers and well-known celebrities. The all-day-dining restaurant, Café Reign, features a spacious and comprehensive open kitchen, offering an authentic Shanghai breakfast buffet, a la carte lunch and a set menu dining experience. The RIVER DRUNK Huaiyang Chinese restaurant is designed in classical Southern Chinese style and has six different themed private dining rooms. It features authentic Huaiyang cuisine and highlights the best and freshest seafood in the region. The Tokyo-native head chef at HE Japanese Restaurant introduces a broad range of classical Japanese dishes with a special highlight on custom-made sushi based on daily produce availability and teppanyaki. With large floor-to-ceiling windows and a crystal chandelier, the Lobby Lounge offers a distinct atmosphere that is perfect for a rendezvous with a wide selection of top and rare whiskeys and fine wines.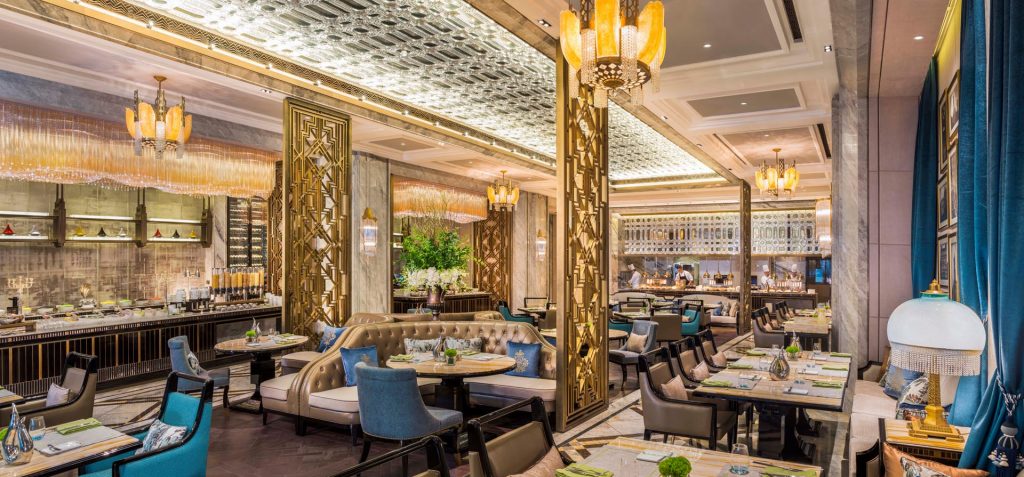 Function space
Grandeur meets cutting-edge technology. Wanda Reign on the Bund provides the quintessential luxury location of choice to impress. Located on the third floor, the majestic Grand Ballroom and three private function rooms offer the perfect venue for wedding celebrations, dinners, private parties and business events. With an unobstructed 180-degree view of the Pudong skyline and the Huangpu River, the 720-square-meter pillar-free Grand Ballroom is equipped with an 82-square- meter LED screen and state-of-the-art audio system. With an eight-meter-high ceiling, the Grand Ballroom can be divided into two banquet halls to accommodate functions of any size. Three additional private function rooms range from 39 square meters to 175 square meters. A professional team of event managers ensures a flawless experience for all occasions. For a truly unforgettable reception, the hotel's chauffeured Rolls-Royce Phantom is available to welcome guests.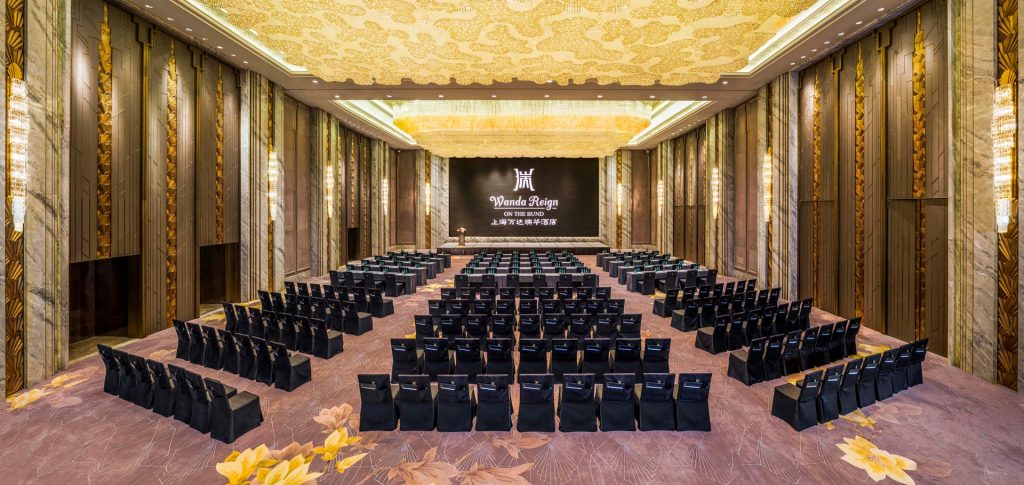 About Wanda Hotels & Resorts
Founded in 2007, Wanda Hotels & Resorts endeavors to become a respected international hotel company from China. This vision has been achieved through integrated business resources including hotel design, hotel construction and hotel management based on its core values of "People are our business. We hold the highest conduct. We seek mutual growth and success." and corporate belief of "A greater goodness in life is achieved by treating each other with great respect and sincerity." Wanda Hotels & Resorts, as the only "one-stop solutions" hotel company in the world with over 70 hotels in over 60 cities in China, currently manages four brands in its portfolio: the ultra-luxury brand Wanda Reign, luxury brand Wanda Vista, premium brand Wanda Realm and select-service hotel brand Wanda Jin. Starting from 2018, there will be many international projects opening including Wanda Vista Hotels in Istanbul, London, Los Angeles, Chicago, Sydney and the Gold Coast.
For more information or bookings, please visit http://www.wandahotels.com.
Wanda Hotels & Resorts official website: www.wandahotels.com