Location
The lodge is strategically located to the south of Nicaragua's most important tourism destination Granada and just north of the Costa Rican border.
Natural luxury on a private white sand tropical beach, stunning ocean-view bungalows, all within a 4,000-acre jungle define the Morgan's Rock experience. You can fly into Nicaragua's capital Managua or Liberia located in Northern Costa Rica. Morgans Rock will happily arrange your safe and comfortable private transportation to Morgan's Rock.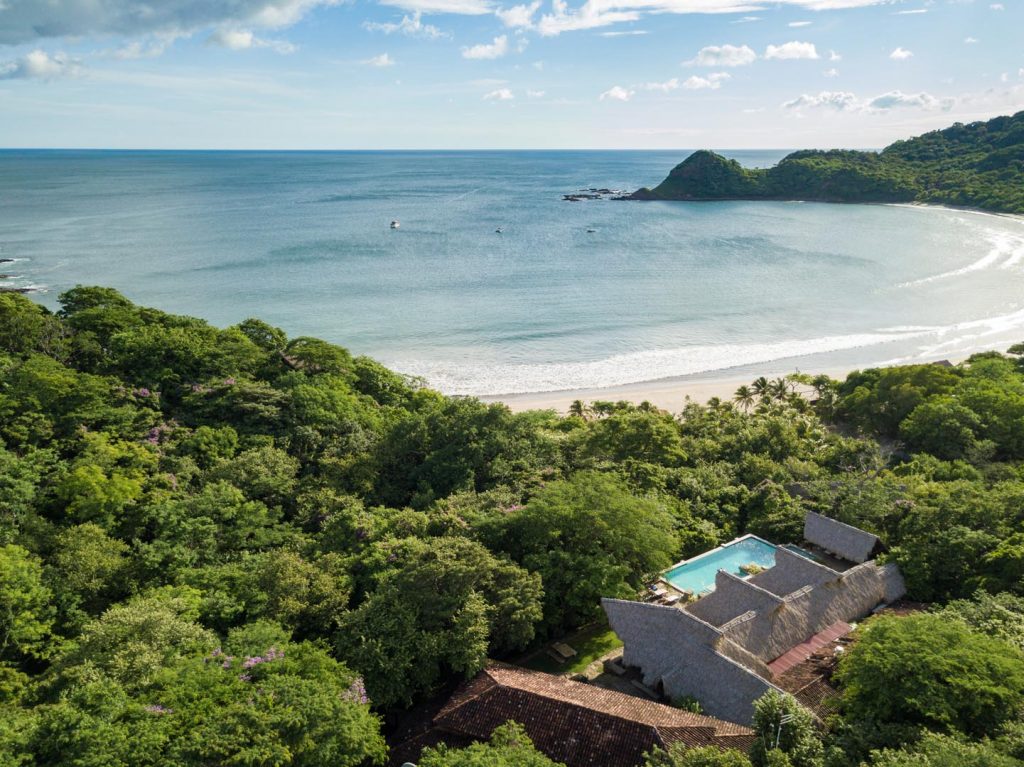 Style
Morgan's Rock is a one of a kind vacation destination. The luxury lodges goal is to provide guests with ultimate relaxation, peace of mind, and an authentic local experience.
The sustainably constructed bungalows are nestled in the jungle not far from the hacienda's private beach. They are exquisite when light up. Guests can relax on the beach and participate in numerous activities, both On and Off-Site Experiences. Lounge in a hammock under the shade of the palapa (thatched beach hut), rejuvenate with an early morning yoga session, hike to some of the best outlooks in the area, admire the fiery sunset over the Pacific with a glass of wine, or explore the vast property and it´s environs.
All have been soundly designed to offer shelter from rain, sun or wind, yet touching as little of the surrounding nature as possible. The stone walls, offering the base and the best support during the breezy season, are hand-cut and tailor-made slabs from volcanic stone. The copper piping in the showers and sinks were created and designed by the Architect Matthew Falkiner and by the German Engineer who built the suspension bridge.
Equally important to the resort is the preservation of Nicaragua's vital ecosystems and wildlife, as well as cultural preservation and community involvement. Guests contribute to the social and environmental mission simply by staying and supporting the marvelous ecolodge, allowing the continued support of community education and environmental conservation.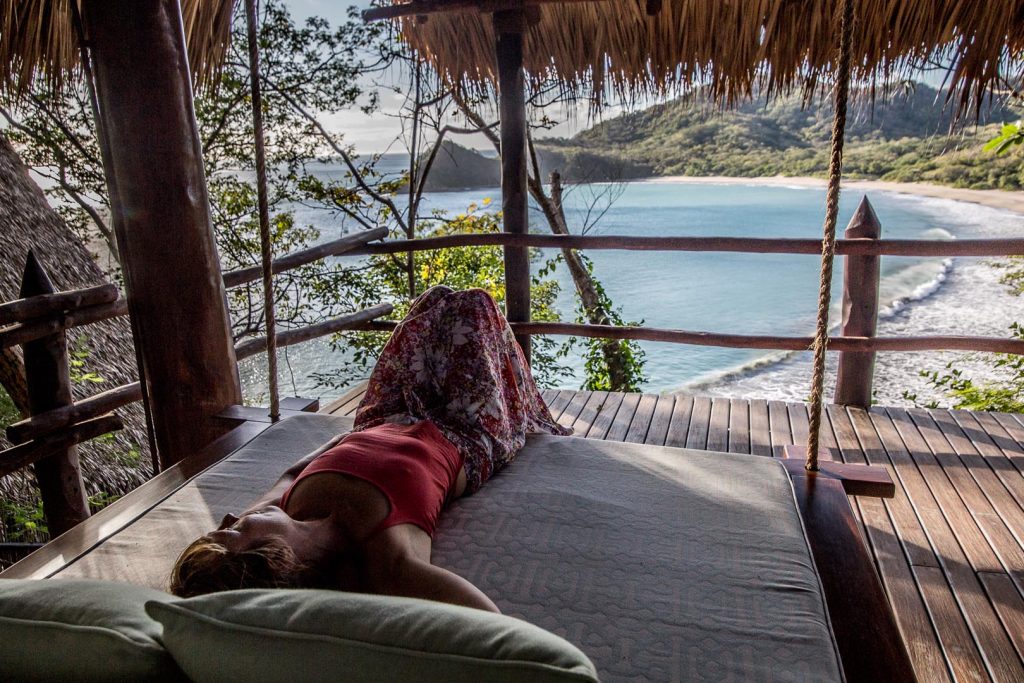 Rooms
Morgan´s Rock was opened in 2004 by the Poncon family as naturally luxurious  lodge with Fifteen rooms, including five bungalows with private pools.
Morgan´s Rock is a 3 Ocean View Two Bedroom Villlas with Private Pool and 15-bungalow hideaway, frequented year-round by nesting sea turtles. Nearly half of the vast property is a private reserve. The rest is low-impact agricultural land (a farm called El Aguacate) and sustainable tropical forestland (owned and managed by Desarrollo Ecoforestal, S.A.). The private reserve runs its own organic garden on the property.
Each bungalow features a king size bed and a queen size sofa bed; a private deck/terrace with a hanging bed hammock, private bathroom with hot/cold shower (heated by solar panels). Due to conservation concerns and design our bungalows are cooled by ceiling fans or evening breeze beds.
Maximum occupancy per bungalow: 3 adults or 2 adults and 2 children/infants
Our bungalows were designed to make guests feel at one with nature while creating minimal impact on the surrounding environment. Each three-sided Ocean View bungalow is perched on a cliff 30-100 feet over the private beach and cove, just across a 50 yard jungle suspension bridge. Set into the treetops, each bungalow accommodates up to four people. Outside on the balcony is a special feature – a queen size day bed suspended by thick marine rope, reminding guests of the casual luxury they've come to experience and setting an appropriately relaxed pace for duration of their stay here at the hacienda.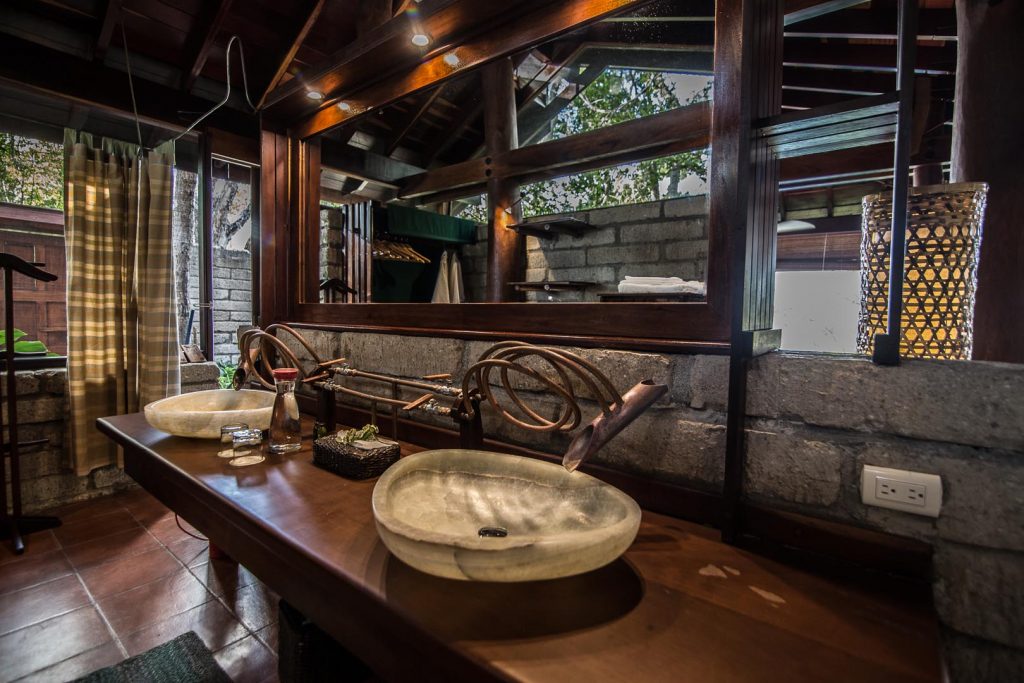 Service & facilities
At the lodge, and in the surrounding 4,000 acres of protected undeveloped forest land including a private reserve, families can bond, play, and discover endlessly.
There are a variety of nature tours exploring the Hacienda's different ecosystems such as primary tropical dry forest, secondary forest, hardwood plantations, pastures, the untouched beaches and hills overlooking volcanoes, Lake Nicaragua, and the Pacific Ocean. Additionally, the agro tourism based tours where you can learn about reforestation and our very own aquatic and organic farming practices. Should time permit, a day trip to nearby colonial Granada, including active volcanoes and an artisan village, is highly recommended.
The highlight of the stay is discovering the forested land and reserve that hosts a variety of exotic animals including spider, howler and capuchin monkeys, and deer as well as a plethora of native and migrant birds and reptiles.
Restaurant is called "La Bastide" The food and beverages served at the lodge are of high quality and in its majority produced on the farm locally or fished in the ocean in front of the hotel. Meals focus on fresh fruits and vegetables, fresh seafood, chicken and meat. They also offer a wide range of vegetarian meals and are able to accommodate to different dietary requirements. Meals are a la carte. The restaurant is a non-smoking area. Guests may smoke at the bar.
A key part of Morgan's Rock Hacienda & Ecolodge sustainability efforts is its involvement with the local community. Nearly all the employees are from the local area. We support the community by buying products from local vendors and farmers.
You may notice a beautiful ceramic pot near the pool or artwork inspired by the indigenous people of Nicaragua in your bungalow. Our pottery collection, dispersed throughout the lodge, features pieces hand-crafted by artisans in San Juan de Oriente, a village steeped in the tradition of pottery making. The art form is a vital source of sustainable income for the artisans and their family and we are happy to support it.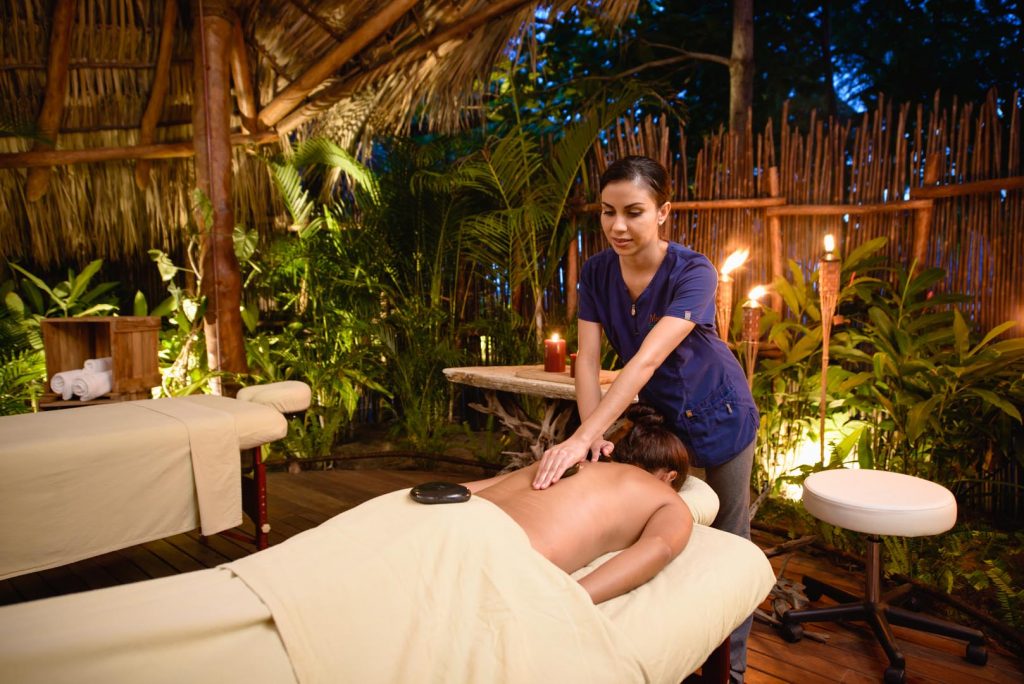 Function space
Plenty of space and endless choices of venues make Morgans Rock perfect for a complete buy out for your wedding, anniversary or even smaller incentive trip.
400 mts² with capacity to hold celebration events to 150 people.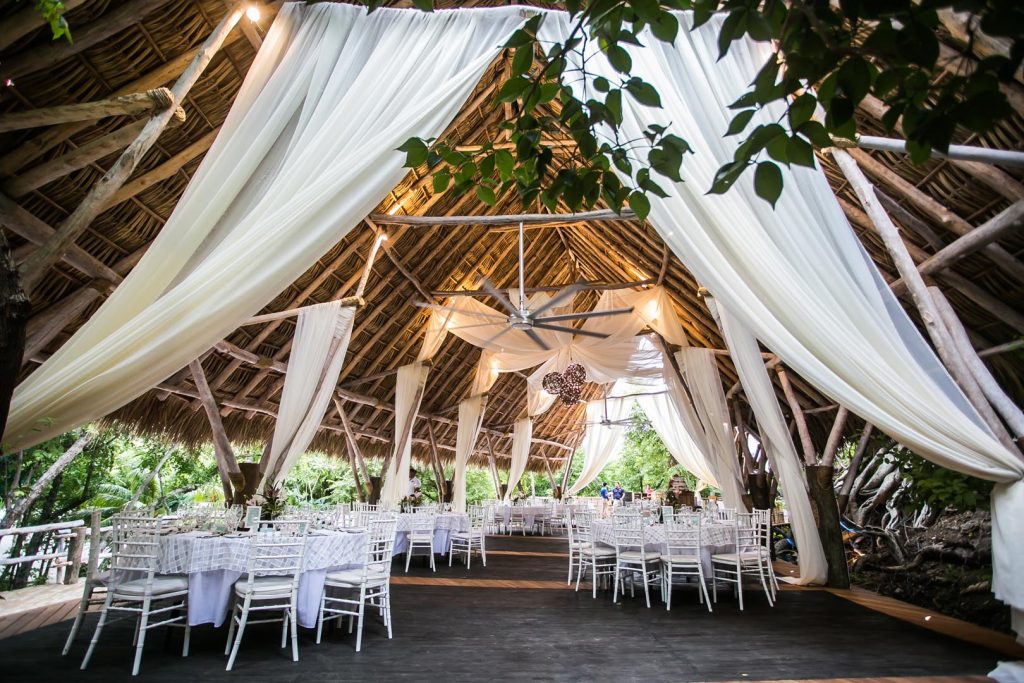 For booking enquiries
Email: reservations@morgansrock.com
Morgans Rock
Playa Ocotal, San Juan del Sur,
Rivas, Nicaragua
Phone: +505 8988-7176 / 7833-7600